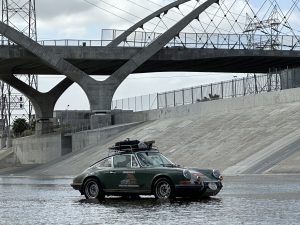 I drove our 911 in the L.A. River and loved it.
As a kid, I was a fan of the Starsky and Hutch TV series and would use my Hot Wheels to reenact the L.A. River driving scenes with their Ford Gran Torino.
When Magnus Walker called me a few months ago and asked if I wanted to drive in the L.A. River, I felt like Ed McMahon just showed up at my door with a huge Publishers Clearing House check.
I was ready to stop everything and leave right then. However, he had to get his film crew ready and I was still sorting out a few repairs before an upcoming rally.
I had a blast filming with Magnus and his crew, and not only did I get to drive through the river, but also on the crazy banking just like you see on TV. It was better than I imagined.
I hope you enjoy watching this short film as much as I had fun participating in the making of it. Please make sure you like and share with others.
Thank you.
Paul