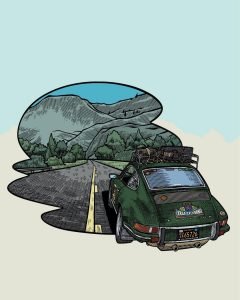 The Overcrest Rally '22 presented by Kris, Jake and Jeff was a meeting of perhaps 100 cars, drivers, and navigators. We met at The Bayhorse Ghost Town in Idaho to start a 3 day "Sportscar Vacation" driving all kinds of roads.  The next morning, we all met at the Challis, Idaho airport to start the adventure.  Everyone chose the roads and routes they would take.  Many of us drove along the Salmon River and actually saw Salmon swimming upstream and spawning.  We ended up that evening at Warm Lake.
The following morning, we all met to begin another adventurous day of driving, for us completing a total of 100 miles on dirt and gravel roads, seeing some of the most spectacular scenery including mountains and rivers.
We concluded our adventure with The Overcrest Film Festival at the Sunset Auto Vue Drive In.
What a great Rally!