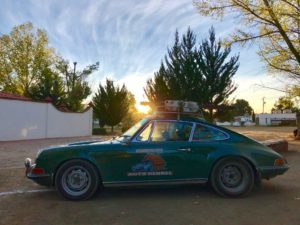 "¡Le andas dando vuelo a la hilacha!"
 This Spanish phrase that most Mexicans understand literally translates to, "You're letting the rag fly."  However, what it really means is getting the most out of your favorite source of pleasure.  And, if you are like me, driving vintage cars on unexplored back roads is my nirvana.
This past November 2016, over 40 vintage cars of all kinds came together in Alpine, California to begin a 4-day/500+ mile journey around Baja California.  From old American iron to the classic British all united for this driving festival.    This was not one of those timed competitions where you are thrown a map book and wished good luck.  This is a close-knit group that is out to purely enjoy the camaraderie of the experience.
Dave with TRE Motorsports led us to the Mexican border at Tecate where we crossed together and were welcomed by the mayor at the town center.  Music was blasting, police shook everyone's hands, and the local baker made fresh pan dulce (sweet bread) for all of us to enjoy.  The municipal police, in a presidential style motorcade, escorted us out of town.  They had intersections blocked off for us and town folk lined the street to wave at us.  Once out of town, the Federales in their Dodge Chargers picked up the entourage and moved us at a spirited pass towards the mountains of Baja.
Each day was filled with great drives and plenty of stops to enjoy the beautiful scenery and delicious local foods.  We visited wineries and large ranches.  We drove on roads that were virtually vacant and freshly paved.  Each driver went at his own pace and we stopped often to keep the group together.  There was a dedicated team of mechanics and flatbed trucks that follow in tow to make sure that no one was left behind and provided any assistance for some of the more temperamental machines.
The evenings were like Cars & Coffee events with great food and libation: hanging out, reliving the day's drive, and checking out the local restaurants.
On the last day, we had a farewell breakfast and began our spirited cruise up highway 1 along the beautiful coastline between Ensenada and Tijuana.  The Mexican drivers were extremely courteous and helped make for safe motoring.  We had a special "expedited" exit through customs and before you know it, we were back in the States.
Although the time flew by, the friendships and memories made were indelible.