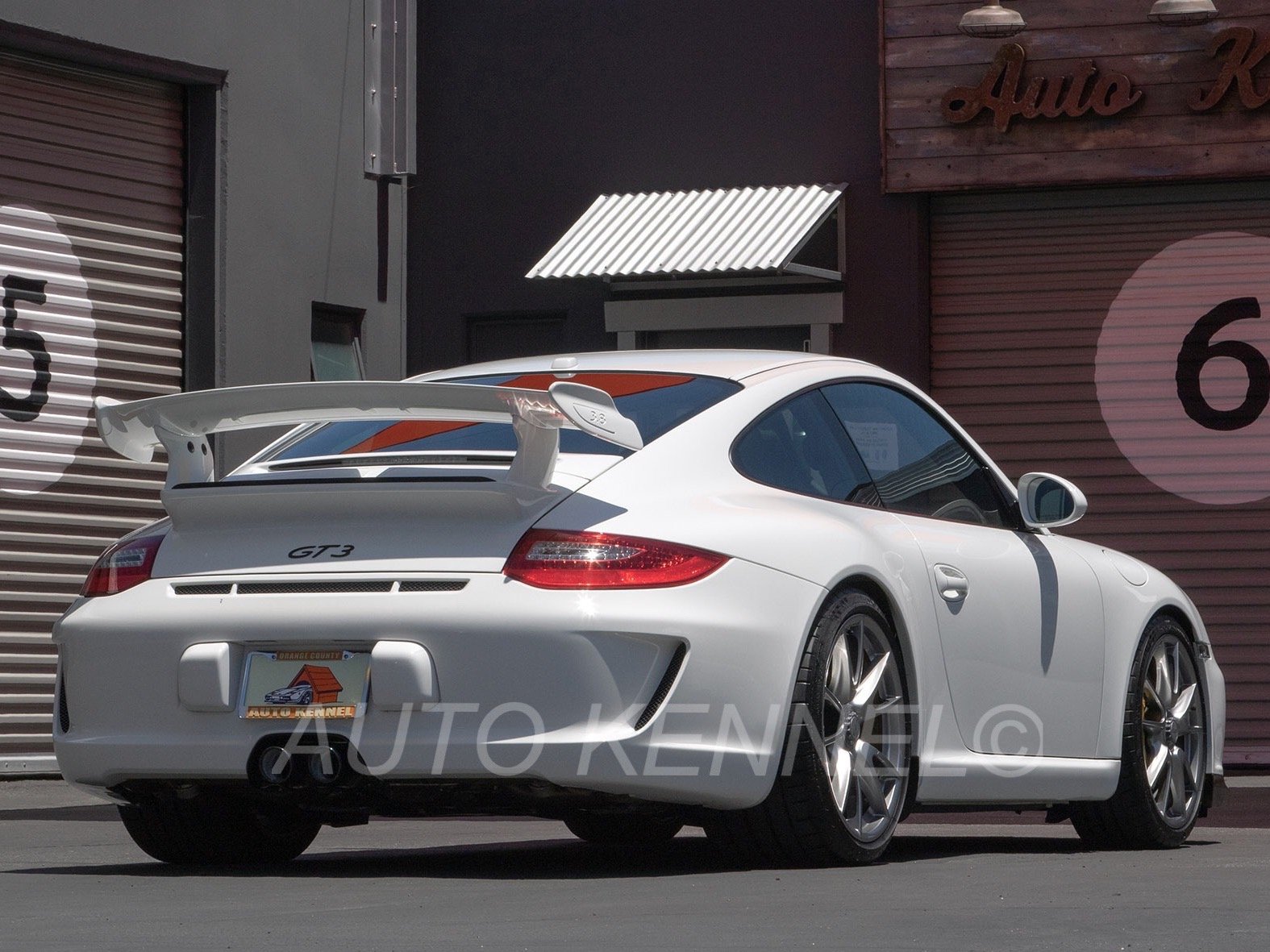 When the Porsche GT3 was launched as a new model in the late 90's, it was an overwhelming success.  All GT3s have since become some of the most sought-after modern collectibles that Porsche has offered.  The famous Mezger engines were the foundation of all the 996 and 997 GT3s.  This motor is known for being one of the best performance engines ever built.  It is considered incredibly reliable and able to handle gobs of power.  The RS 4.0 was the last of these engines.  The new 991s have gone away from this engine design.  As a result, early examples of the new engine were plagued with rebuilds and recalls.
The 2nd Generation GT3's have seen a bump in value as buyers for the 911's have migrated back to the 997.2 (commonly referred to as Gen 2) models.  With their displacement growing from 3.6 to 3.8 liters, these race-ready streetcars now have naturally aspirated 435hp and 317 lb. ft. torque.  Many consider them to be the last of the analog-era, normally aspirated Porsche 911s.
This GT3 was built in June of 2009 and delivered to Hoehn Porsche of Carlsbad, California on July 30th, 2009.  It was sold to the first owner by Penske Porsche of West Covina, California on January, 13th, 2010   It was ordered with the following factory optional equipment:
Sport Chrono package plus
PCCB Porsche Ceramic Composite Brakes
PDLS Porsche Dynamic Light System (cornering lights)
16-way adaptive sports seat
Heated front seats
Black full leather
Floor mats in interior color
Door entry guards carbon illuminated
Carbon dashboard trim
Carbon/Alcantera dashboard trim
Carbon/Alcantera parking brake handle
Carbon centre console
Aluminum footrest
Black-faced stopwatch
Seat heating
Sound system A.S.K. (Sound package plus)
PCM 3.0 w/extended navigation
Bluetooth Phone Interface
Universal audio interface
XM Radio
The MSRP was $139,525
The first owner lived here in Southern California.  It was purchased as a gift for the first owner's wife.  She didn't care for it.  Thus, they sold it a year later on February 25th, 2011 with 428-miles to the next owner, a software engineer in Los Gatos, California.  That owner kept the car for 5-years/7k-miles.  It was serviced regularly at Stevens Creek Porsche of Santa Clara, California.  It was then sold to the current Southern California enthusiast on October 7th, 2016 with 7,595 miles.  For the last 4-years/3k-miles, this owner has used it lightly as a weekend toy primarily for exploring local back-roads.  Throughout this car's life, it was never abused or used as a track car.  It was lightly driven and rarely used for commuting.  The current owner regularly serviced it with Vollig Autowerks in San Diego, California.  Highlights of services throughout this GT3's life includes:
Regular oil services, at least once a year regardless of miles
            (last oil change 9/19 and less than 500-miles ago)
Regular brake fluid flushes (at least every 2-years)
Transmission oil change (9/18 – 9,400 miles)
Flush coolant system and vacuum test (9/18 – 9,400 miles)
Install factory GT3 carbon bucket seats (9/18 – Available for additional fee)
Leather seat bolster protective covers installed on the carbon buckets
Alignment (9/18)
Complete paint protection film – Xpel ($5,800 – 7/18)
SharkWerks Muffler bypass system – CA smog legal (stock muffler included)
New front spoiler lip from Porsche (uninstalled and included)
The interior is equally as nice and shows hardly any signs of use.  The original adaptive sport seats were removed and packed when the factory carbon buckets were installed recently.  The invoice for the seats from Porsche was nearly $12,000.  Furthermore, before they were used, leather bolster protectors were installed to reduce common wear areas.  The original adaptive sport seats look perfect with no tears, rips, or signs of heavy use.  They are included with the car and will be installed before delivery to the next owner.  If the next owner would like to purchase the Carbon Buckets either instead of the sport seats or in addition, they are available with first right of refusal to the vehicle buyer.  The carpet, headliner, door panels, and dash all look new with no signs of wear.  All the interior lights, gauges, buttons, and other controls work properly.  The Alcantera trim shows minimal signs of wear as well.
This GT3 drives crisply and feels tight as new.  It starts easily and builds revs quite quickly.  The power is immediate and very linear throughout each rev range.  The transmission shifts smoothly and is precise with no slipping or grinding.  The brakes have incredible bite with no fading or pulling.  Handling is crisp and direct, providing excellent feedback.  Traction is very good in soft mode over irregular surfaces, while sport mode does stiffen the performance, without creating too much bounce.  This generation is considered by many to be the last of the analog pure bred Porsche sports cars.
This GT3 comes with all the owner's manuals, center-lock tool, Porsche flat repair system, air compressor, tool kit, original window sticker, original muffler part, all service records from new, new replacement front spoiler lip, and an extra key.
*Note: The carbon fiber factory bucket seats installed are available for an additional fee.  The original sport seats will be reinstalled for the next owner unless they purchase the extra seats.
*Note:  The seatbelts have been upgraded to factory yellow ones.  The stock exhaust has been reinstalled.
**Note: VIN and other numbers withheld to protect against fraud.  All numbers including VIN, Engine, and color will be provided to serious buyers.
If you have any questions, please do not hesitate to contact Paul at 714-335-4911 or paul@autokennel.com
This vehicle is sold "as-is" with no warranty, written or implied.  In some cases, the vehicle does have the remaining factory warranty still in place and will be described above if that is the case.  All taxes and fees are the responsibility of the buyer and are not included in the listed price.  All vehicle sales will require a $170 document and admin fee.  The vehicle listed is described to the best of our ability.  The information is based on our own research and statements made to us by the previous owner(s).  To the best of our knowledge, the above information is accurate.  We are not responsible for errors in our description of options or any other details.  The above-mentioned vehicle is used and can be expected to show some wear and tear.  It is not a brand-new vehicle.  We do welcome all local pre-purchase inspections on vehicles in order to verify condition.  For payment, we accept bank transfer, cashier's check, or cash.  Check's take up to 10-business days to clear.  Vehicle and title will be held until all funds are cleared and verified.  Bank transfers usually only take 24 hours.
SPECIAL NOTE
We appreciate the countless calls from brokers and dealers. As much as we would love to quickly "wholesale" this car to industry partners so they can make a quick profit, the car is on consignment (as are all of our offerings) and the owners have the final say.
If you have actually taken the time to read this far in our detailed description, I can't imagine there are any questions you may have. However, if there is something I missed or you would prefer to hear the warm sound of a human voice (mine) reiterating the research I've provided above, I would be happy to help.
If you put our company name in Google (Autokennel) you will see that we have been a long time part of the Porsche community and have worked extremely hard to earn the positive reputation you will find. Feel free to reach out to our local PCA chapter (www.pcaocr.org) and the board members are familiar with us. Most in the club have known us for most of our 25-year membership involvement. Of course, if you would like more references, you will find countless testimonials on our website as well.