Story by Paul Kramer and Photos by Ed Kramer
Anyone involved with car clubs often hears the expression, "It's not about the cars: it's about the people who drive them."  This weekend clarified the true essence of that phrase.  There will be countless articles about this event in the months to come.  They will highlight the collection of rare Porsche racecars as well as all the Porsche activities.  They may even highlight a few of the famous people who drove these cars.  However, what about you and me?  We are the core of the auto enthusiast movement.  We are the reason events like Rennsport exist.  It has always been about the people!
We began our trip on a Thursday late morning at a Mexican restaurant in Santa Barbara.  Here, we met up with a group of PCA, Early S, and R Gruppe members itching with excitement to begin the trip.  This middle-aged group looked like a gang of kids who just pulled off playing hooky from school.  Everyone was ready to get the weekend started.
The back-road drive up to Monterey was epic as usual.  Following closely on our tail was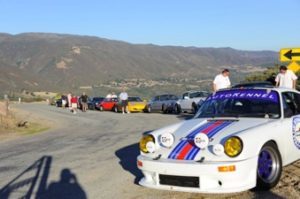 Mike Gagen from the San Diego PCA region.  Mike is a seasoned PCA club racer with whom I have had the pleasure of sharing the track on many occasions.  He is both a competitive and a gentleman racer.  As a retired air traffic controller, he has focused his time on his Porsche passion.  Mike brought his 80's Carrera factory tubo-look for the drive up.  As we chased each other over some of California's best roads, I almost felt transported back to the Targa Florio of the early 70's.  If it weren't for his 6'7" frame, I would have guessed Brian Redman was chasing me.  Also along for the drive were our very own Orange Coast PCA members, Pete Lech and Larry Moore.  Pete was driving his beautiful Arena Red 993 C2S with Larry (OCR's very own Rallye Meister) as navigator.  What a duo!  However, I did catch Larry missing a turn and making Pete do a U-turn.  Like a true professional, he played it off as though nothing had happened.  All in all, it was a wonderful drive that I will never forget.
The next day, we woke up early and drove to the famous Laguna Seca racetrack to witness the largest gathering of Porsches we had ever seen.  There were over 350 significant Porsche racecars

in the paddock as well as more than 1,200 Porsches in the car corral…spectacular! As we strolled down the vendor row on the infield, we ran across an old friend of the Orange Coast region, Terry Wells.  Terry was the regional parts manager for Porsche Cars North America and had a 26-year career with Porsche.  He retired last year and realized that he had acquired over 10,000 items of Porsche paraphernalia!  With strict orders from his wife, he has started to thin out his herd.  He had a wonderful booth with all kinds of old Porsche models and toy cars.  You could see his fondness for the collection as he carefully described each item with a sparkle in his eye.  I felt like a bully stealing his lunch money each time I purchased an item.  If I didn't have the same problem as Terry, I would have backed my van u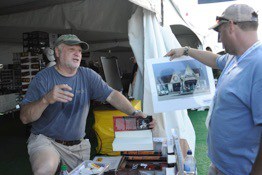 p to his booth and bought it all.
A short way down vendor row we met another interesting character, Burt S. Levy (or as most people call him, B.S. Levy).  He is a well-known automotive novelist.  I just finished reading his first book called The Last Open Road.  This book is an account of racing in the 50's seen through the eyes of a young driver and mechanic.  And, sure enough, the author was just as funny as the book itself.  We were captivated for nearly 30 minutes listening to his humorous sermons on his own racing mishaps.
Walking through the pits was like walking back in time.  With the damp foggy air, it felt as if we were in LeMa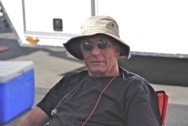 ns, France in the late 1960's during the week before the running of their famous endurance race.  Huddled at the back of a small trailer was Neil Alex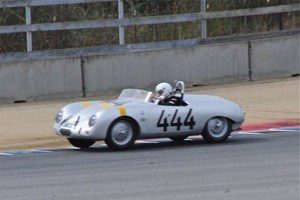 ander and his pit crew (wife, children, and mechanic friend).  Neil was relaxing before running his very original 1959 Porsche 718 RSK Center Seat racecar.  We raced back to the grandstands just in time to see Neil drift this historic racecar out of turn 3, under the tire bridge, then full throttle out of turn 5.  The 180hp 4-cam engine howled as the car reached 100mph.
One of the highlights of the weekend was the parade laps of the historical Porsches.  Well, maybe it wasn't the parade lap its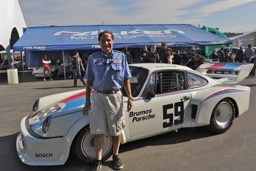 elf but the mayhem of the people preparing for the laps.  It was car Jenga in the pits!  Imagine 962s, 935s, and countless 911 racecars all going in different directions.  It was like watch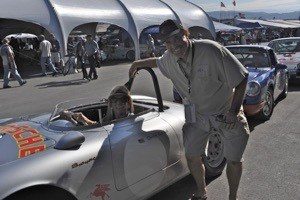 ing an anthill through a magnifying glass.  It was a $100,000,000 traffic jam.  In the mix, we spotted OCR member Bob Weber lining up his stunning Brumos 1977 Trans Am Championship 934.5 Porsche.  He had a look of excitement combined with nervousness as he wrestled the 500hp vehicle to a parking lot crawl.  A few cars up from Bob were Peter and Cheryl Dunkel in their beautifully restored 1955-550 Porsche Spyder.  Peter found this car nearly 20 years ago while visiting Monterey for the Pebble Beach/Historics weekend.  It was in desperate need of restoration but sat on the backburner for nearly 2 decades.  Secretly, he restored the car to the specifications that Cheryl wan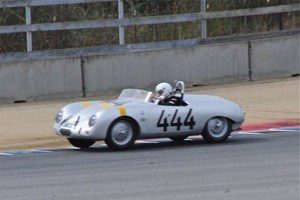 ted and surprised her with it at the Quail Motorsport gathering a couple of years ago.  She looked like a proud parent as she revved the 4-cam engine.  As we got ready to go to the grandstands to watch the procession, we found Herb and Rose Wysard putt-ing up in their extremely rare 1952 Glöckler Porsche.  With Rose's hair blowing in the wind and a big grin on Herb's face, they looked like their were on their first date.  There is nothing like sharing the Porsche passion with your partner.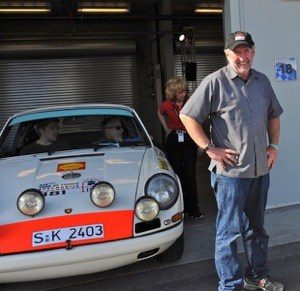 Finally, who should we run across but OCR Member and Porsche factory driver (as well as Pike's Peak Champion) Jeff Zwart.  Jeff has always been so generous with his time and with sharing his cars.  He was no different at this event.  Jeff had at least a dozen special Porsche racecars at the event.  Most of them were getting ready be taken to the track by his friends and here was Jeff watching them all with a bright smile on his face.  We asked him which car he was going to drive and he just shrugged and looked around for another one of his cars as if he were getting another spoon out of the silverware drawer…. "Ahh, I guess I'll take the 906 out…it's one of my favorites…"
The whole weekend was a surreal event.  It was a sensory overload of anything and everything Porsche.  I still can't believe I was there.  I've waited for over a decade to participate at Rennsport.  It was finally here but I knew it would become another memory all too soon.  As I pondered this thought, blue smoke from Hurley Haywood's CanAm Porsche filled my nostrils and brought me back to this automotive wonderland.  I looked around and saw Derek Bell showing his son t
he controls of Steve McQueen's Porsche 917 that they would soon be parading around the track.  I walked away shaking my head in disbelief.
Someone pinch me…