Article written by Paul Kramer
Photos by Ed Kramer, Randy Wells & Sherwood Lee
There isn't a week that goes by without several of my friends and clients asking me, "how do I become an R Gruppe member?"  They ask me with a tone of reverence, as if they were trying to be accepted to Yale's Skull and Bones Society.  This makes me chuckle because in the early days the reason "membership" to this group was so difficult was mostly due to lack of organization.  It was like asking a bunch of kids in a bounce house who's in charge.  They would probably just ignore you or, if you're lucky, just laugh at you.  In the end, there was really only one way to become a member:  just show up.  The original idea of R Gruppe was for membership to be reserved for enthusiasts who wanted to participate and NOT for those "arm chair/internet forum" gossipmongers.  Nowadays, it is definitely more organized with a website, emails, regular updates and dues.
A little over 10 years ago, a friend of mine was thinking about selling his 1973 911 RS Clone.  I had just sold my 1971 911 T and was dying to buy an RS Clone.  I wanted one so badly that I was borderline obsessive.  It was all I talked about.  My friend recognized my passion and said that I had to go to this "duck tail" car show in Cambria, CA.  I gave him a lost look.  He clarified by telling me that, once a year, a bunch of Porsche RS clones meet along the coast of central California for a car show of sorts that lasts the whole weekend.  It sounded great, but at first, I couldn't imagine being at a car show for more than a few hours let alone an entire weekend.  He then showed me some pictures of more than a dozen RS clones all lined up in what they called the "ducks in a row" photograph.  I was hooked!  I had to be there.
So, after another 6 months of begging and pleading, my friend sold me his RS clone and I marked my calendar for the first part of May to attend this so-called gathering.  The funny thing was that I had no idea it was called R Gruppe.  I thought it was called something like "duck tail reunion."  I didn't know what it was or what to expect.  The process of booking a hotel and finding the exact dates proved to be more difficult than I could have ever imagined.  R Gruppe had no website.  There were no phone numbers.  Hell, I didn't even know who was in charge.  After much digging around and asking other Porsche friends, I found out that R Gruppe was started by a couple of guys who loved early Porsche 911's and were especially interested i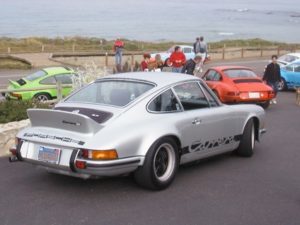 n how people were hot rodding them and making them "sport-purpose" cars, just the way Porsche did in the late 60's.   Those R Gruppe co-founders are Freeman Thomas and Cris Huergas. I tried contacting them and after weeks of voice mails, I finally got a return call. I wasn't clear on the details, but I did get the name of the hotel and weekend date.  So, I was set!
When I pulled into the host hotel at the 2nd official/unofficial R Gruppe (or whatever you call it) event, I swore I almost went into cardiac arrest.  I began to stutter and drool as I was pointing at all the different early 911s.  I was beside myself.  All the bright 70's colors made the hotel parking lot look like a gumball machine had tipped over and spilled its contents.
I double parked and nearly clotheslined myself on the seatbelt as I bolted out of the car.  The next 6 hours were nirvana.  Someone handed me a margarita freshly made from a 2-stroke powered portable blender.  I shook hands with so many new people that I thought I was at an Amway convention.  Everyone was so warm and friend.  They were all some of the nicest people I had ever met.  It was like all the holidays and my birthday wrapped up into one glorious weekend.  I finally crawled back to my room after 2am but had a hard time going to sleep because we were planning on going on a drive the next morning.
A drive…what did that mean?  Where would we go?  By 6am I awoke to the smell of fuel and the familiar whine of 911 engines starting up.  Who needs coffee anyway?!  Within a couple of minutes, I did the 3 "S's" (s#*t, shower, and shave) and was out the door with my key in hand.  The rest of the day was a blur of beautiful scenery, great open roads and LeMans like sounds from over 50 Porsches.  The next two days we did the same thing until, finally, Sunday rolled around and it was time to head home.  I so didn't want it to end.  It was like parting ways with a new love.  I felt empty.  All the anticipation, all the excitement, all the fun, and it was over in the blink of an eye.  I started asking my newfound friends when the next meet was.  What do we do next?  Where do we go from here?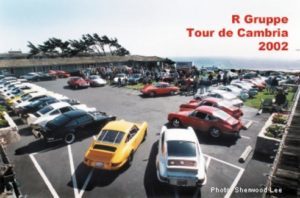 They all basically responded the same.  They shrugged their shoulders and said "see you around."  That's it?  Is there a meeting where they decide the calendar of events?  Who is really in charge?  My questions fell on deaf ears as the cars roared out of the hotel and became a distant cacophony.
As I drove home with a sullen feeling, it all began to sink in.  While I marinated in the glory of the weekend, I began to realize why this weekend was so special.  I found and connected with people just like me.  For a brief moment, we all came together like a family reunion.  I knew that the camaraderie and bond I had with this group of people would last a lifetime.
Over the next several years, I attended the annual R Gruppe meet (which I later came to find out was called the Treffen).  Also, I began to get a few email notices of a particular car show or event that the R Gruppe would be attending.  Eventually (more than 5 years later), someone asked me what my R Gruppe membership number was.  Membership?  Number?  They might as well have been speaking in tongues.  I had no idea.  So I asked another R Gruppe friend of mine, John Risvold, if I was a member and did I have a number?  He said, "of course you are a member."  He then pulled out a stack of papers with names and he scanned down until he found my name and said, "you are number 188."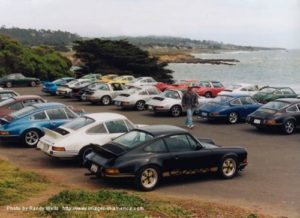 I stood there in awe.  How come I didn't know about this before?  How did I become a member? Yes, I did send my $25 each year for a newsletter that maybe came out once every 18 months. Yes, I attended everything I could-but that was about it!  That's when John told me the answers to my questions.  He said to me, "you just showed up."  It was so simple that it finally made sense.  I came to these events because I liked the cars and loved the people.  It was never about a membership.  It was always about the people.  They were truly like my brothers and sisters.  Sometimes years would go by before I would see them but it never felt like more than a week or two had passed.  We just picked up where we left off.
So, when someone asks me about becoming a member, I just tell them to show up.  When they show up, they will either experience what I did and keep coming back or decide it isn't for them and not come.  If they don't like it, why would they then want to be a member anyway?  But, if they saw what I saw, one day someone would give them a membership number and they would crack a smile because they would understand that the number means so little.